DIVINE DIVAS: THE ULTIMATE DRAG EXPERIENCE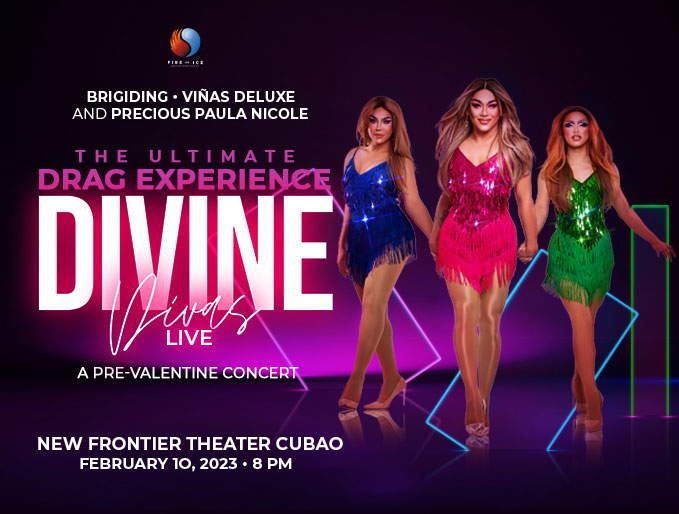 A PRE-VALENTINE CONCERT FEATURING PRECIOUS PAULA NICOLE, VIÑAS DELUXE, AND BRIGIDING BROUGHT TO YOU BY FIRE AND ICE LIVE!
DRAG. DIVAS. DIVINE.
DIVINE DIVAS: THE ULITMATE DRAG EXPERIENCE is the first major concert of the first-ever Drag Race Philippines Superstar Precious Paula Nicole and her fellow queens Viñas Deluxe and Brigiding. In this explosive night of drag performances channeling the world's top entertainment icons like Beyonce, Lady Gaga, Jessie J, Ariana Grande, and many more, as well as our very own local icons, fans are going to be in for an experience from these fierce and fabulous drag stars.
Get to know their history—from their humble beginnings before they became drag race superstars until they achieved the sweet taste of success through Drag Race
Philippines and now as they venture beyond to elevate the art of drag in the country as DIVINE DIVAS.
Drag Race Philippines is the Philippine franchise of the American reality competition television series RuPaul's Drag Race, produced by World of Wonder and world-renowned LGBT icon Ru Paul Charles.
Fire and Ice LIVE! Is a new entertainment company founded by powerhouse couple Liza Dino and Ice Seguerra that realizes Ice and Liza's dream to bring Filipino creativity to the global stage. Uncompromising and meticulous about championing quality, with an uncanny instinct for stories that matter, they create content by uncovering the heart of the material and transform them into poignant experiences that touch the soul of their audiences.