KIM YOUNG DAE ASIA FAN MEETING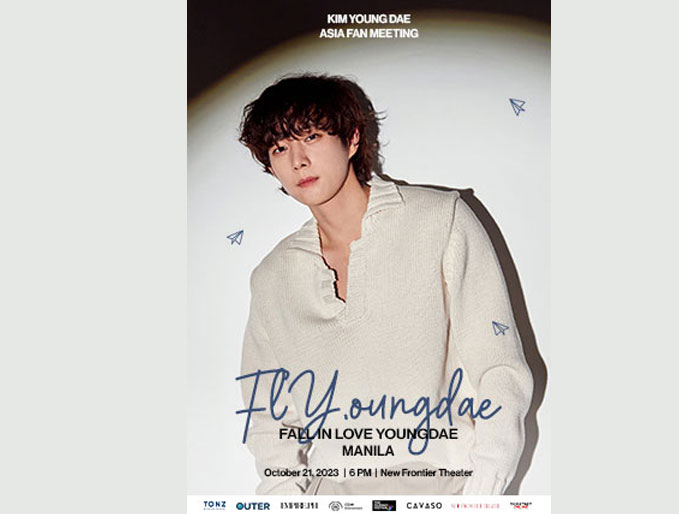 It's been a long wait but it's finally here: Kim Young Dae is coming to visit the Philippines for his "Kim Young Dae Asia Fan Meeting 'FLY.oungdae Fall in Love Youngdae' in Manila."
The event is happening this October 21, 2023, 6 PM, at the New Frontier Theater.
The highly-anticipated fan meeting tour was announced as early as October last year by Kim Young Dae's agency, but no further updates were made until now.
This year, fans finally get to meet the rising actor of South Korea. Kim Young Dae is one of the few celebrities that has an impressive acting portfolio despite only being in the industry for six years.
He first started gaining attention after starring in "Extraordinary You" in 2019 and then made more traction after playing "Joo Seok Hoon" in "The Penthouse: War in Life."
It was in "Sh**ting Stars" however, where Kim Young Dae permanently cemented himself as a "K-Drama Oppa," thanks to his amazing chemistry with co-star Lee Sung Kyoung.
The 27-year-old actor is also musically inclined, playing instruments like guitar and piano. He has also shown interest in singing and even performed a song on "Idol Radio."
With all this in his arsenal, Kim Young Dae's fan meeting is guaranteed to be fun with activities like talk, games, and performances.
Moreover, fans get to enjoy more moments with the actor during the fan benefits like Group Photo and Hi-Bye session.
"Kim Young Dae Asia Fan Meeting 'FLY.oungdae Fall in Love Youngdae' in Manila" is brought to you by TONZ Entertainment, EMPIRE.PH, CDM Entertainment, and The Filipino Festival, in partnership with CAVASO.