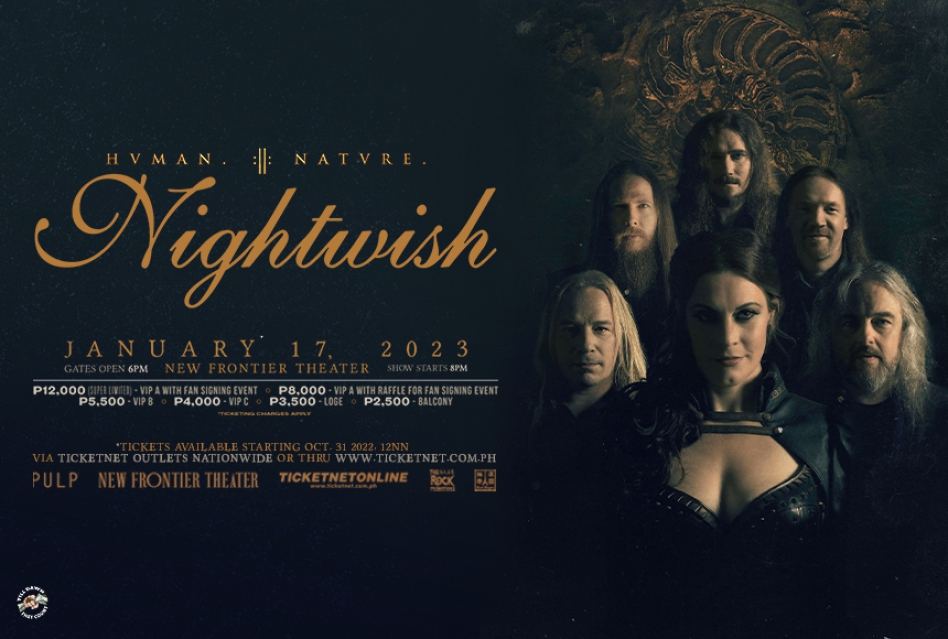 PULP Live World will start 2023 with a Heavy Metal explosion as it proudly brings for the first time to thePhilippines the iconic Finnish Symphonic Metal band, NIGHTWISH Live in Manila for one night o fmajestic Metal madness this January 17, 2023, 8PM at the New Frontier Theater!
Forged in fire at a hidden camp at Lake Pyhäjärvi in Kitee, Tuomas Holopainen, the band's keyboardist,s pawned NIGHTWISH. His vision turned into a massive ensemble that made a phenomenal mark in theindustry with their debut album Angels Fall First reaching the number 31 spot on the Finnish charts, whiletheir single, "The Carpenter" made it to the Top 10.
NIGHTWISH's historic chronicle continued with more chart-topping albums such as Oceanborn (1998), Wishmaster (2000), and Century Child (2002) to name a few. The EP Over the Hills and Far Away released in 2001 dominated the charts for nearly a year. While their 2004 album, Once, sold more than one million copies. This hour-long masterpiece gave the band's listeners fresh tunes with magnificent orchestral and choral arrangements, and became their gateway to conquer the United States.
As a pioneer of Symphonic Metal, the band has achieved legendary status today. Since its inception, the band has successfully released nine studio albums selling over 10 million records worldwide. NIGHTWISH is also inaugurated into the Finnish Music Hall of Fame, becoming the 11th member of the honorary gallery and is considered Finland's most successful band. They are also one of Europe's most famed bands of all time, receiving more than 60 gold and platinum awards, having released six Number 1 albums and thirteen Number 1 singles throughout their career.
Now, NIGHTWISH members, Floor Jansen (Vocals), Tuomas Holopainen (Keyboards), Emppu Vuorinen (Guitars), Troy Donockley (Uileann Pipes), Kai Hahto (Drums), and Jukka Koskinen (Bass Guitar) are geared to wow Manila with their symphonic melodies and multi-dimensional Metal tunes as they play their iconic hits and latest tracks from their newest album, Human :||: Nature. This ninth album proves that they're not yet done surprising fans with highly-creative releases as this is their first gigantic double release that highlights both Heavy Metal and enchanting orchestral sounds.
Brace yourselves for yet another legendary show from PULP Live World! We'll surely be blown away by an epic and out-of-the-ordinary live music experience at NIGHTWISH LIVE IN MANILA happening on January 17, 2023 at the New Frontier Theater. Doors open at 6PM and the show starts at 8PM. Grab your tickets at TicketNet outlets nationwide and online via www.ticketnet.com.ph or call 8911-5555.
#NIGHTWISHinMNL
Tags: